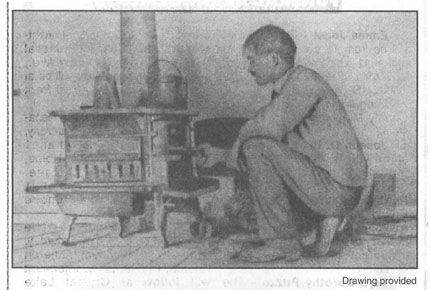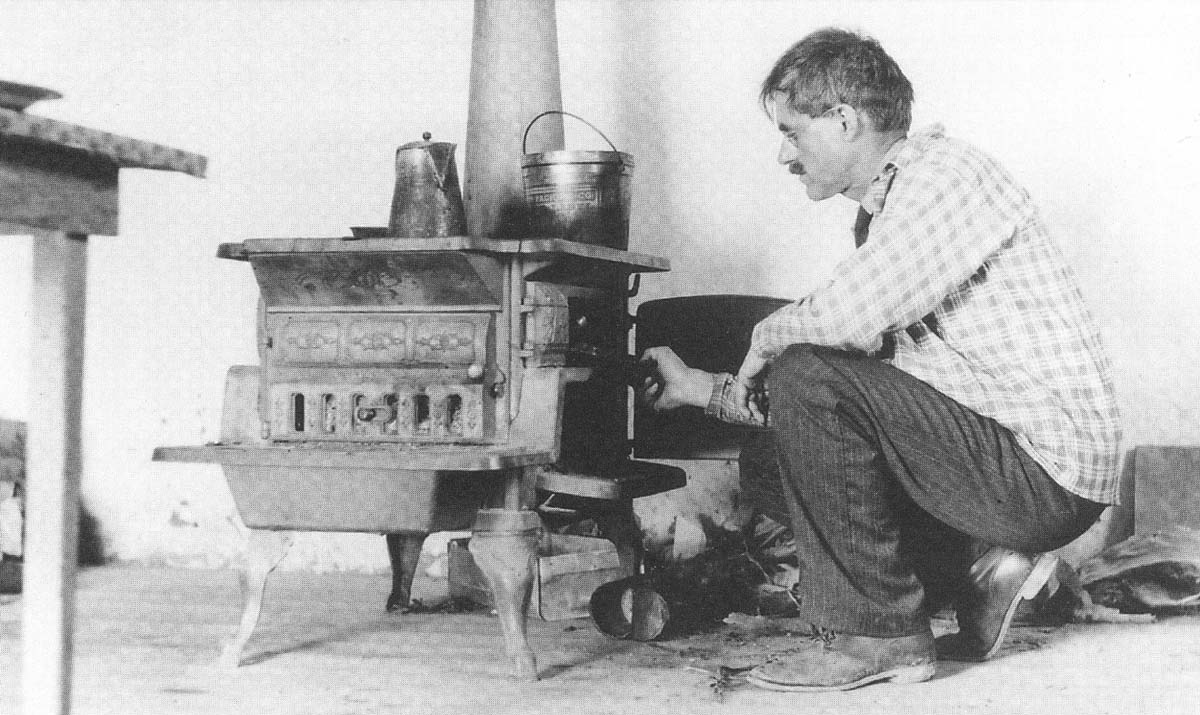 E. A. Burbank stokes a box stove in his winter quarters.
(NOTE: Pencil sketch [above left] appeared in newspaper article - original 1904 photograph [above right] did not)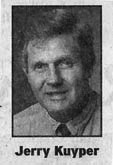 Harvard's forgotten artist stirs interest
Jerry Kuyper
January 8, 2000
Northwest Herald, used with permission
HARVARD - E. A. Burbank's return to the place of his birth was not the noble event the occasion suggested.
A man who had fraternized with the highest echelons of plains, mountain and desert Indians deserved better than he got. Not only were Burbank's ashes disinterred in 1984 from the Forest View Abbey mausoleum in Rockford and carted to Mount Auburn Cemetery for reinterment, but also the ashes of a wife and one of that wife's subsequent husband or husbands had to be disinterred and reinterred right alongside his.
Born in 1858, Burbank was the grandson of Elbridge Gerry Ayer, an early McHenry County settler who named Harvard in honor of the settlement in Massachusetts from whence the family began its westward migration.
Although christened Elbridge Ayer Burbank, after attaining his manhood he became known as E. A. Burbank.
Burbank is probably the most anonymous accomplished resident this city has produced. The copyright to a 1944 book, Burbank Among the Indians, has lapsed. The book is scarce and in need of reprinting as it details Burbank's meetings and conversations with famous or infamous Indian chiefs, among them Geronimo of the Apaches, Sitting Bull of the Sioux and Chief Joseph of the Nez Perce. It includes his 19th century drawings of them, as well as drawings of other facets of American Indian life.
The drawings and oils he sent to the Field Museum of Natural History on Chicago's lakeshore ostensibly have found new homes, including private quarters. The bulk of his paintings appear to have peen purchased for $13,500 in 1902 by the Butler Institute of American Art at Youngstown, Ohio. About 200 of his sketches are the property today of Chicago's Near Northside Newberry Library. Burbank's uncle was a trustee of the Newberry. Occasionally one of-his sketches is reproduced in a coffee table collection of westem art.
Charles Lummis, author of The Land of Sunshine, and an authority on art and lore of the West, wrote in a foreword to the 1944 Burbank book, It is entirely within bounds to say that no one has at all rivaled Burbank as an historical painter of Indians.
After he died in 1949 in the ninth decade of life, Burbank's remains were cremated and dispatched to the Rockford mausoleum at the request of wife, Blanche Wheeler Burbank.
The surviving wife remarried Jeremiah O'Sullivan and, after their deaths and cremations, their ashes also were delivered to the Rockford mausoleum. Burbank's ashes lay at Blanche's left and Jeremiah's to her right. When the Forest View burial site fell into late 20th century disrepair, the ashes inside the mausoleum had to be moved.
Through the efforts of the Illinois Genealogical Society, Greenwood Cemetery in Rockford and the late Harvard historian, Gwen Danner, Burbank's ashes were brought home to the mausoleum at Mount Auburn. Burbank's ashes came with company, though, as Rockford cemetery officials said, in paraphrase, If you take his, you also take theirs.
So today the cemetery's mausoleum on Brink Street is custodian of three containers of ashes.
Burbank was the nephew of Edward E. Ayer, first president of the Field Museum and a trustee of Newberry Library.
It was the uncle who persuaded his talented nephew to go west and paint Indians. He did just that, never to return to the Midwest, at least to live. He married at least twice but may have had a third wife, too. If he fathered children, it remains a secret from genealogist Ann Wells of Crystal Lake.
She has been researching this native son of the county for more than two years. I suppose if I spent a week just on him, I could wrap him up, said the founder of Wells Research Associates.
Wells has several questions she wants answered. She discovered his first wife was Nebraskan-born Nettie Kalblinger.
Apparently he divorced her, but I don't have the paperwork done on that yet, Wells said. His marriage to Blanche apparently lasted a long time as they traveled abroad, including the British Isles."
They traveled together a lot and it has been noted he traveled almost as much in death (California-Rockford-Harvard) as he did in life.
I think there is a third wife in there for Burbank somewhere, as references have been made in my research to a woman other than Nettie or Blanche.
And I don't know about the children. That question might be answered if I ever get the probate records and I might get them if I decide to spend the $45 that the Halsted Funeral Home in San Francisco wants for information pertaining to Burbank.
Halsted did a lot of the funerals for the rich and famous in San Francisco, but must have done a few free of charge as Burbank was near poverty when he died. He died in San Francisco on March 21, 1949, at Leguna Honda Home.
At that time, he was married to Blanche and shes the one who shipped his ashes to Rockford. Probably, that was her hometown. He had been hit by a San Francisco cable car two months earlier, on Jan. 27, which fractured his neck. I suppose he died of those injuries, but I haven't read the autopsy report as I'm not sure it is worth my money.
I'm doing this research out of my own pocket and when it's not something you are getting paid for, you are more reluctant not to spend hard cash on it. After all, he's not a member of my family. But, I did get interested several years ago in him as here was this very artistic, accomplished man who has his drawings in museums and private collections the length and breadth of this country.
If there is information on Burbank helpful to Wells, she can be called at (Note: Removed due to privacy issues).
Meanwhile she will continue to try and flesh out Burbanks living arrangements and circumstances between, say, the year (1898) he began his pencil sketch of Geronimo and the cable car accident in 1949. I'm still pushing forward on this, she said.