Artist's remains moved to final resting place
By Steve Newton
The Register Star
Copyright Rockford Register Star 2004. Used with permission.

HARVARD - Elbridge Ayer Burbank would have painted the scene Thursday in somber earth tones of brown and gray - brown leaves falling from massive oaks around a stark white crypt under gray, rainy skies.
The ashes of Burbank, an artist who painted Abraham Lincoln and some of the great Indian chiefs in what is now the United States, were laid to rest Thursday in the Ayer family crypt in Mount Auburn Cemetery.
"Probably Harvard's best known citizen has come home today," said the Rev. Harold J. Demus, pastor of First Presbyterian Church. "We, your neighbors commend your ashes to their final resting place."
Demus spoke at brief services Thursday afternoon for Burbank.
Men dressed in black overcoats and women dressed in gray and black crowded into the small crypt building. Outside a steady rain fell throughout the ceremony as people bowed their heads in prayer.
The mourners were members of the Harvard Historical Society and the North Central Illinois Genealogical Society, based in Rockford.
Burbank was born 1858 in Harvard, and died on March 21, 1949, in Colma, Calif., near San Francisco. His body was cremated in California after his death and his ashes were first entombed in Rockford's Forest View Mausoleum, which is now and about to be demolished. Burbank lived in Rockford for one year, in 1910, according to his obituary in the Rockford Morning Star.
"The list of important Illinois artists can never be too long. The death of Elbridge Ayer Burbank took from us another one of those painters," said an obituary of the painter in the July 17, 1949, Chicago Tribune. A book on Burbank, Burbank Among the Indians, which is in the Rockford Public Library and the Delos Diggins Library, Harvard, said that Burbank's uncle, Edward E. Ayer, a founder of the Field Museum of Natural History in Chicago, commissioned his nephew in 1887 to paint Indians of the West.
Burbank trawled West and met Geronimo, Sitting Bull, Chief Joseph and Red Cloud and painted them. He also learned their language, sign language and customs.
About 1,200 paintings and sketches were made while Burbank was in the West. He became so well known to the Indians that he was given a name which, in English, means "Many Brushes."
Burbank also painted Buffalo Bill Cody and a Welsh lord, a picture that hangs in a London, England, museum, according to obituaries of the painter in the Morning Star and Chicago Tribune. Other works by Burbank hang in the Chicago Art Institute, the Chicago Historical Society Museum, and museums and private collections throughout the United States.
He also illustrated the book Sagas of the West.
Burbank's grandfather, Elbridge Gerry Ayer, is credited with founding Harvard. Ayer Street, which runs through the downtown business district, is named after him.
Burbank's ashes were entombed next to those of his uncle, Edward E. Ayer.
The plight of Burbank's unclaimed ashes came to light when the Register Star published a list of the names of those still entombed in Forest View Abbey.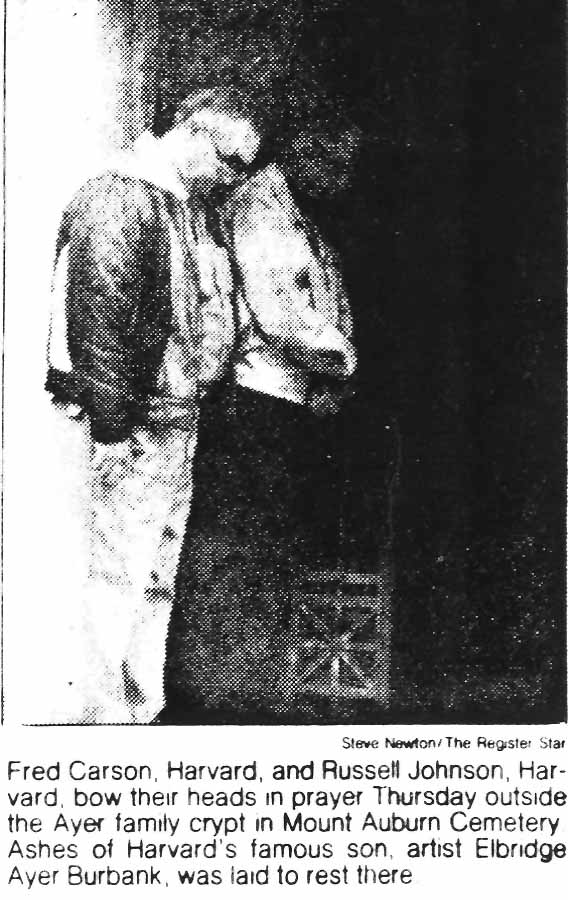 "His name leaped off the page when I saw it," said Fred Carson. "I couldn't let his ashes go unclaimed. I used to shovel snow in front of his studio in Harvard."
Gwendolyn Danner, a charter member of the historical society, said cemetery association officials would not let the society take Burbank's ashes without the bodies of his wife, Blanche Wheeler Burbank O'Sullivan and her second husband, Jeremiah O'Sullivan.
She said the society contacted the Harvard City Council which voted to appropriate $150 to cremate the two bodies. L. Ben Saunders, of the Saunders and Hoffman Funeral Home, Harvard, donated his service in transporting the ashes to Harvard.
"He was a quiet man," Carson recalled. "I used to watch him paint through his picture window." "He was an awful nice person," Danner said. "The kids on the way home from school used to watch him paint out in his yard and he would tell them how he painted. He was the most famous person this town has ever produced.
[NOTE: Paragraph 7 - Burbank actually died in the Laguna Honda Hospital (or Home) in San Francisco, Colma is where he was originally interred]