From the files of M. Melissa Wolfe
Chief Joseph
Original B/W image: from E. A. Burbanks painting of the old warrior
which hangs in D. C. Jacklings library at Woodside, Calif.
Color image (added 2005): from print, private collection, Harvard, IL
----------------------------------
Chief Joseph - Thunder Rolling In the Mountains
1844 1904
One of the best portraits Burbank ever made of the greatest Indian Chief of all time. On his forehead is plenty of heap big medicine, in the nature of dots, indicating, perhaps, his numerous victories in battle. In 1877 he defeated three United States armies, and would have conquered the fourth had General Miles been dependent on land travel the same as Joseph and not been furnished with a boat to move supplies up the Missouri River. During that fatal year the leader of the Nez Perces moved not only his army of fighting warriors, feeding them on wild game en-route, but also all the squaws and their papooses. Over a thousand miles they traveled, and over three ranges of mountains - the Cascades, Bitter Root, and Rockies, fighting and defeating pursuing Paleface armies on the way. From the two regions of the Wallowa Valley in N. E. Oregon his tribes ventured forth on the long eastward trek, meeting near the crossing of the Snake, next the treacherous Salmon River they negotiated, turning south several miles only to turn back and retrace their course and fighting two battles, thence twice more crossing the Salmon, and heading North East over the old Lola Trail and Pass across the Bitter Root Range, thence south 200 mi. then East thru Yellowstone Park, turning down Clarks Fork across the Yellowstone River on North thru the Big Snowy Mountains, then the Little Rockies, and on through the Bear Paw Range to within 40 miles of his goal, fighting and winning battles all the way. In all the annals of military history no glowing achievement matches such a record.
----------------------------------
CHIEF JOSEPH
1844 1904
Original B/W image: Photo from the painting which now hangs in Pony Express Museum"
Color image (added 2005): from print, private collection, Harvard, IL
Side view of famous warrior, done in 1898, by E. A. Burbank, the only man who ever painted the Nez Perces chief. The above painting was the property of the late Lieut. Chief Skyhawk, Jr. and was in his possession on board the Cruiser New Orleans, until he fell during his seventh naval battle of the Pacific. It gives the boys courage to have Chief Joseph among us, said Skyhawk on one of his trips to the mainland. A Burbank painting of Geronimo he also had, and the boys often hollered Geronimo when they went into battle. It was the Lieutenants last wish that the great reply speech of Chief Joseph in the Bear Paw Mountains, Oct. 1887, be published with his photo, which appears in this issue.
Chief Josephs Trek and Surrender
By Herbert Hamlin
(Including a short sketch of the crucial period of the famous Chieftains life written in accordance to the request of the late Naval Lieutenant Chief Skyhawk, Jr., who was an ardent admirer of the Nes Perces leader; who considered him the greatest of All American Indians, as well as the worlds greatest General, and carried a Burbank portrait of him into seven battles, until he fell in the Solomons).
Perhaps no language in all the history of the American Indians is more eloquent than the pathetic and heart-rending words of the Great Nez Perces leader when he surrendered to General O. O. Howard, and Col. Nelson Miles in the Bear Paw Mountains of Montana, October 5th, 1877. Chief Tecumseh, the Shawnee warrior, made eloquence that welded together the Choctaw, Creeks, Cherokee, and Seminole tribes which brought on the Creek War of 1813, the capture of Detroit, siege of Fort Meigs, and most likely prevented our conquering of Canada in the War of 1812. So too did Chief Gall have oratorical powers that both calmed and moved the Sioux warriors whenever he spoke. Joseph, however, was three in one, what the modern football player would call a- triple threat man, plus. To analyze the Chieftain in few words is to say - He was a great military genius, a great leader loved by his men, a great and brave fighter, and a great orator who could coin heart-touching words by gazing into the blue skies of Montana, that brought tears to the Palefaces.
Joseph, the gentleman, as well as genius, was perhaps a product of genealogy brought down through many generations of Redskin culture in a tribe of the Nez Perces - the most highly developed of all American Indians, including over four hundred tribes. As far back as their history runs, according to testimony of the Chief, there was a Joseph in the tribe. Also, there was a Chief Moses in a neighboring tribe as far back as White Mans history goes in the Northwest. These bible names, doubtless prevalent for generations before white man ever arrived on the scene, indicate some remote connection between the lost tribe of Israel and the American Indian. Maybe Joseph Smith has something very much worth while in his Book of Mormon. where he covers this phase of antiquity, telling where the American Indians came from, and how they got here, etc. as given to him by the angel Maroni on the golden plates, with two witnesses to verify the fact. Be that as it may Chief Joseph of the Nez Perces was as brilliant as his other predecessor, Joseph, son of Jacob, who saved the Egyptians from starvation, and became virtual ruler of the land.
Over Three Ranges of Mountains
It is almost beyond reason how Chief Joseph fought the American armies sent to conquer him. This he not only did, and whipped them at almost every encounter, but he moved, and transported, at the same time, all his people, their stock, their equipment, and belongings, including squaws and papooses, for a thousand miles and more, wandering all over the mountain trails of three ranges - the Cascades, Bitter Root, and Rockies. The Paleface armies, transported food, and supplies up the Missouri River by boat, as far as Fort Benton, above Josephs line of March, Joseph had no food transport. He and his peple lived off the country. He, therefore, had to penetrate country where there was game, and forage for his stock, trusting that each day he would get closer to Sitting Bull, and his Sioux warriors, who had crossed the line into Canada after wiping out Custers forces the year before. Indian runners and scouts he sent out in both directions, keeping himself informed on the movements of Uncle Sams armies wider Gen. Oliver Howard, Gen. John Gibbons, Col. Sam Sturgis, Capt. Benteen, et. al., and the location of Sitting Bull whose strength he wanted to combine with his own.
Trek of the Nonpareil Joseph
Let us follow, briefly, the long trek of this military genius, claimed by some critics grater than Napoleon whose equipment was not so crude, and limited as Josephs, nor was the European general bothered with protection and moving women and children along with his army. From the two regions of the Wallows Valley they left crossing the Snake River into Idaho; from lands promised to them for all time by Territorial Governor Isaac Stevens of Washington in 1855, and which were taken away from them by another government treaty in 1863, which was not signed by Chief Joseph or other groups of the Nez Perot tribe. May 4th, 1877 Gen. O. C. Howard ordered Joseph and his people on to a Reservation where they refused to go, but moved east ward instead. In June Howards two companies of cavalry were defeated. From where Josephs tribe ventured forth on the long trek retracing their route and crossing the treacherous Salmon River twice more, heading northeast toward the Lolo Trail. At the Clearwater Crossing another encounter took place where about five hundred of Howards soldiers met with no success. On went Joseph with his tribe. On July 27th he was met by Capt. Charles Rawn, from Ft. Missoula, at the mouth of Lolo Creek, demanding Joseph submit to authority of the government. The demand was not acceded to, but Joseph promised to harm no one and pass peacefully through Montana - a promise which they didnt let him keep. Over the Lolo Pass
(missing words in text below)
the Bitter Root Range he went,
ce south he turned for two hundred miles toward the Lemhi
only to be intercepted by
John Gibbons from Fort Shaw, reinforced by troops from Ft. Missoula, and Bitter Root Valley.
early dawn. August 9th, they
ked on Josephs camp, at the Hole, attacking it without pro
tion, killing braves and their squaws and children. Handicapped as he was Joseph drove them to hills, capturing their Howitzer, a mule with two thousand rounds of ammunition on his back.
was the third United States army Joseph had defeated which pounced on him like a panther in the night.
Up Lemhi Valley He Treks Toward Pass
Swan and Sons, Ez and Grant,
Only Men to Fool Joseph
While squaws, old bucks, and children burled their dead, Josephs braves circled the ramparts standing guard. After a sad tribal ceremony, but victorious battle, Joseph led his people, some wounded and dying on the trail, south toward the historic Lemhi Pass where Sacagawea brought Lewis and Clark on the westward journey three quarters of a century before. While back in Idaho, traveling up the Lemhi Valley, Joseph and his advance guard, Whitebird, received perhaps the only real scare of their lives. Ed Swan, pioneer rancher, and leader who had charge of the volunteers for the country wide, between Big Hole battlefield and Salmon City, put his men to work building a stockade. His two sons, Ez and Grant Swan, now living in Salt Lake, were among them. First they dug a deep trench in the shape of a huge square in which they erected logs upright. Guards, behind big holes for cannons were put at alternating corners, as other western forts were built end operated. In the holes Swan put five and six inch stove pipes taken from the tops of neighboring cabins. They had all the appearance of genuine howitzers and Joseph, nor Whitebird, nor any of their men came within a quarter of a mile of the place - just close enough to witness the danger. Swan, who had known Joseph in Montana when the latter came over the Lolo trail to hunt buffalo, let him know they were cannons, and made his own personal treaty with him not to molest any of the stock in the country - which Joseph didnt do, according to his word. Whiskey taken from freight teams enroute to Salmon City made some of Josephs younger braves hard to manage but not for long. Eastward two hundred miles more he traveled with his warriors and suffering people through Yosemite Park, raiding, on the way, at Camas Meadows, near Henrys Lake, Howards forces at night, and later by a miracle not capturing General William Tecumseh Sherman who was scouting around the Park with Lt. Col. Gilbert from Ft. Ellis near Boseman. Had Joseph captured the Civil war hero he could have made a horse trade at his own price, for all his former lands at Willowa, and perhaps all the rest of eastern Oregon thrown in. Onward went the trekking caravan of 1871, which had been fighting and recovering, and suffering since the days of spring. Turning north down Clarks Fork to the Yellowstone went Joseph, and on across with the armies of Sam Sturgis, and what was left of Gibbons now pursuing. Also, included here were the sundry activities of more, officers and men, one blaming the other for his failure. Captain Norwood, Cushing, F. W. Benteen, Nowlan, Bell, and French, with about two score of Crow scouts; Lieutenants Doane and Gilbert of the 7th Infantry with Norwoods cavalry all of the long reluctant, and waning Howards army - all figuring to some degree in the futile drama of pursuing, or being pursued.
Through Canyon He Goes at Night
For nearly one hundred and fifty miles Sturges, and Benteen, et. al., chased Joseph who played tricks on them all the way from the Yellowstone cross country to the Musselshell. At the only passageway left for the Nez Perces, en-route, the narrow gorge of Canyon Creek - the Paleface armies were eluded by ruses, and decoys, and through the Canyon in the night went Josephs tribes with hundreds of ponies, squaws and children. The Whites thought they had them headed off, but they didnt. Skirmishes, far short of battle, was the most the half-leary Whites could get out of Joseph at Canyon Creek. It was now after the middle of September, and turning cold, when he went through the Snowy Mountains, and circled the western slopes of the Judith Range, making for the crossing of the Missouri. No help could Joseph find from his brothers, the Mountain Crows, who preferred to not antagonize the whites, and many of the River Crows, had already joined the whites, since before the Battle of Little Big Horn, June 25th of the previous year. This discouragement he had carried in his heart since crossing of the Yellowstone. On striking the Missouri at the Little Rockies near Cow Island, another skirmish was had with whites who barricaded themselves behind anything available till Major Guido Liges ordered the men back to the pits at Cow Island. So the army sent down from Fort Benton did nothing toward heading off the Indians. Thence on north went Josephs bands, heading for Canada which he often called the old womans country. Yes, on through the Bear Paw Mountains to its northern slope.
Battle of Bear Paw Mountains
But alas, and alack after negotiating the Bear Paws, and almost within reach of the Canadian boundary land of the Red Coats - Joseph tarried a little too long to rest the wounded, and his tired and aged squaws and bucks, and to refresh his worn out stock in new found clover. Moreover he thought the Palefaces didnt want to fight any longer as he had defeated them so often, and eluded them at will, so he stopped to replenish the tribes depleted larder with some of the abundant game in the hills.
While thus in camp, figuring he was beyond the war-area of American armies that had pursued him, low and behold they came upon him. Careless, indeed, he had been to not cover his tracks with rear scouts as had been his constant custom. Colonel Nelson Miles and his force, ordered by Generals Howard and Terry, took of f from Fort Keogh near the Yelowstone on the Tungue, encountering Joseph Just south of the Milk River and west of Fork Belknap, on the north slope of the Bear Paws. It was here that occurred the fierce Battle of Bear Paw, in which Miles, with sundry Captains commanding cavalries, cut Josephs forces in twain, and he lost one of his greatest warriors - Looking Glass, also, his brother, Alkout, and Pile of Clouds. Several other attacks followed, in which stock was driven off, and more killed and wounded. Had Joseph wanted to leave his wounded and old squaws behind, he could have escaped with his army into Canada, but he would not desert them,
No Help from Sitting Bull
Time progressed but not to the advantage of Joseph, and no help came from Sitting Bulls Sioux across the boundary. Joseph, for the sake of his suffering people, and with White Birds agreement, sent a courier to Miles quarters with terms of surrender. It has been quoted in the North American Review of 1879, p. 429, that Joseph said: I could not bear to see wounded men and women suffer any longer; we had lost enough already. General Miles had promised that we might return to our country, with what stock we left. I thought we could start again. I believed General Miles or never would have surrendered; I have heard that he has been censured for making the promise to return us to Lapwai. He could not have made any other terms with me at the time. I would have he him in check until my friends came to my assistance, and then neither of the generals nor their solders would have left Bear Paw 85 Mountain alive.
General Howard reported that his aide-de-camp, Lieut. Wood, took down word for word what Chief Joseph said in has famous speech of surrender which follows to-whit:
JOSEPHS HISTORIC SPEECH ON THE FIELD OF BATTLE
Tell General Howard I know his heart. What be told me before I have in my heart. I am tired of fighting. Our Chiefs are killed. Looking Glass is dead. Too-Hul-Hul-sote is dead. The old men are all dead. It is the young men who say yes or no (voting in council). He who led on the young men is dead (Josephs brother, Alokut.) It is cold and we have no blankets. The little children are freezing to death. My people, some of them, have run away to the hills, and have no blankets, no food; no one knows where they are perhaps freezing to death. I want to have time to look for my children and see how many of them I can find. Maybe I shall find them among the dead. Hear me, my chiefs, I am tired; my heart is sick and sad. From where the sun now stands I will fight no more forever.
White Bird had gone with his band into Canada, where he lived and died near the turn of the Century. Joseph, with less than hundred warriors left, half of whom were wounded, surrendered, together with less than two hundred women and about one hundred and fifty children.
Dies Broken Hearted
Eventually, most of White Birds warriors returned from Canada to the agency at Lapwai where they could spend their reclining years in company of their loved and devoted commander, who on Sept. 21st, 1904, while gazing into the fire, fell forward on his face, and died of a broken heart.
Beautiful, indeed, are the tributes paid to this great soul by whites the same as Redskin. In later years General Miles said that if Joseph had received a West Point education he would have made one of Americas greatest generals. In answer to this General Gatling Gun Parker, who saw more fighting than Miles ever hoped to, and carried more fighting medals than a dozen ordinary generals, said that if Chief Joseph had a West Point education it would have most likely ruined his decisions by natural instinct in which he far excelled the Paleface commanders; that considering the tools with which he had to work, and what he did, he is the matchless wonder of all time, notwithstanding Napoleon, or those who preceded, or followed him. If General Parkers tribute to the Redskin Chief is over-rated one thing is certain; in all the annals of military history no glowing achievement can match the record of 1877. It is there in the archives, and there to stay until future generations can produce a military genius to beat it.
General MacArthur, in his island-hopping and by-passing campaign against the Japanese, is perhaps the only military genius to touch the dust of Chief Joseph. Short of supplies, equipment, and man power which were going to Europe, it is both uncanny, and miraculous, as well as astounding how he did it.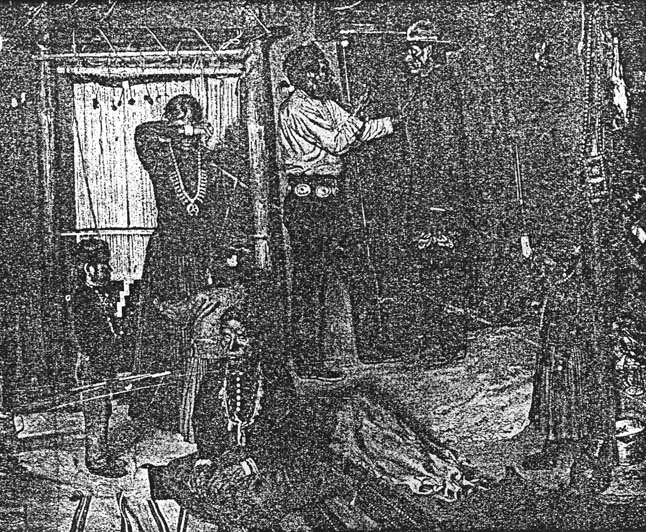 One of Americas Greatest Indian Paintings
Photo, from original painting, courtesy of artist, E. A. Burbank, who spent many weeks painting it from life.
Boy Leaving For School is the title of this pathetic Navajo scene where strong ties, and love of home, are strained to the utmost when the eldest son leaves for school - for Carlysle University, or Haskell College, to learn the arts of the Paleface - to read and write, and speak English with better diction. One may ask - and all for what? The Navaho tribe has gone down hill since you lived here. They are poverty stricken, starving and dispossessed say Ruth Kirk who knows her Indians. 90 year old Indian artist, E. A. Burbank, depicted many years ago in this painting, life is governed by impulse and instinct, especially among the redskins. This crucial moment illustrates far more than just a son leaving for school. It marks a great transition in the heart-breaking life of the first American who, after three hundred years of war, was finally defeated at the Massacre of Wounded Knee, driven and herded to a reservation and then educated to white mans way of life which has brought finis, and degradation to his tribe. While mother weeps, and father instructs the son to be ever honorable and faithful, and not forget home and fireside, his elder sister, the rug weaver, sits on the floor gazing into the dark future when no longer will virile Chieftains return from the hunt. Doubtless, she foresees the last chapter in the sunset of her race. The above painting, for which Burbank received nothing, but refused to remove it from Ganado reservation, is now in the museum at Gallup, New Mexico, where countless tourists, stop, look and ponder at its significance.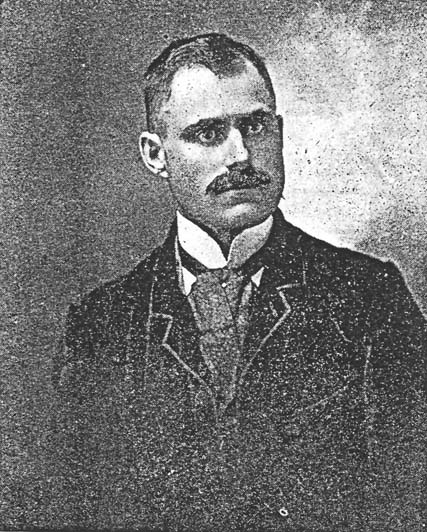 BURBANK IN THE GAY 90s

Above photo taken by W. El Wing, Spokane. Washington, before the swing of the century, original in Pony Express Museum.

Over 50 years ago, western artist, E. A. Burbank, often dressed up for the Indians, Here he is shown in velvet coat, and foulard tie, ready to call on his friend Chief Joseph whom he highly respected and honored perhaps as much if not more than any other American, In return the great Nez Perces leader reciprocated, for he would allow no one to paint his portrait but Elbridge Burbank, the Munich scholar who not only painted more Indian chiefs than any other individual, but spent most of his life among them, sympathizing with them in distress and helping solve their problems. Seven portrait paintings he made of Chief Joseph at the Nes Pelem Agency in eastern Washington, where the old warrior now lies buried, One of his best paintings shows the great leader in front view with Nez Perces medicine on his face, and is in the D. C. Jackling library at Woodside, California.